We offer an investor friendly alternative to the traditional products and portfolio management services offered by large financial service firms, e.g., mutual funds and hedge funds.
We manage investors' money right alongside our own money through our flagship Spoke Fund® named Mosaic Portfolio, a long-term, total-return-focused equity portfolio. We approach investing in stocks with the mindset of a long-term business owner, not as a trader. Before investing in a company, we do a thorough, bottoms-up analysis of the company. When we buy the stock of a company, our intention is to hold it for years and decades to come unless there is a significant change in the future business prospect of the company.
The Free Investors ("TFI") was founded in 2012 as an independent registered investment advisor. As a fee-only firm, TFI does not accept any referral fees or compensation that is contingent upon the purchase or sale of financial products. We are located in Hamilton, New Jersey.
Spoke Fund®: Explained in less than 5 minutes !
Please subscribe to our free monthly newsletter. Every month we share our thoughts on investing ideas, lessons from our investing journey, performance results, state of the market, and much more.
Click here to read more about how we are different from other established firms.
Get our report "7 Unusual Traits Of The Most Successful Long-Term Investors" and newsletter in email

Frequently Asked Questions
What is the Mosaic Portfolio?
It is our flagship Spoke Fund®. Our portfolio manager has most of his family's money invested in Mosaic portfolio. You can read more about the Mosaic portfolio on our "Our Portfolio" page.
How do you invest? What is your investing philosophy?
In short, our flagship Mosaic Portfolio seeks to achieve long-term capital appreciation by investing in great companies at cheap prices. We invest for long-term — our investing philosophy is to invest in good businesses with the plan to own their stocks for years. Performing rigorous, bottom up analysis of SEC filings and publicly available information about the company, we look at each company's strategy, brand, competitive position, management team, operations, and performance etc. Read more details about our investment philosophy, layers in the portfolio and why we call it "Sprinkle Cupcakes" on the portfolio page !
Do you have a minimum investment for Mosaic Portfolio?  
Yes, the minimum investment is $20,000.
What are the fees?
Our fees for the Mosaic portfolio start at 0.95% of assets, assessed monthly and is based on the average value of your account for the month, and custodian fee of 0.30% of assets charged in addition. Specifics of our fees and custodian fee tiers can be found on pages 4 and 5 of our Form ADV Part 2.
What is a Spoke Fund®? Where can I find out more about Spoke Funds?
A Spoke Fund® is a group of separate investor accounts linked to a portfolio containing most of the liquid net worth of that fund's manager. When you invest with us in our Mosaic portfolio, we open a separate brokerage account for you at our custodian, FOLIOfn. Your account is synchronized to our core portfolio via our custodian's patented trading technology. From that point forward, any changes made in the core portfolio will create trades that are executed in your account (and all other investor accounts). In short, the Spoke Fund® is designed such that all accounts exactly mirror the positions taken in the model portfolio. You can find more about our flagship Spoke Fund® on the Mosaic Portfolio page.
The picture and table below illustrates the advantages of Spoke Fund® over mutual fund.

Who will be managing my money?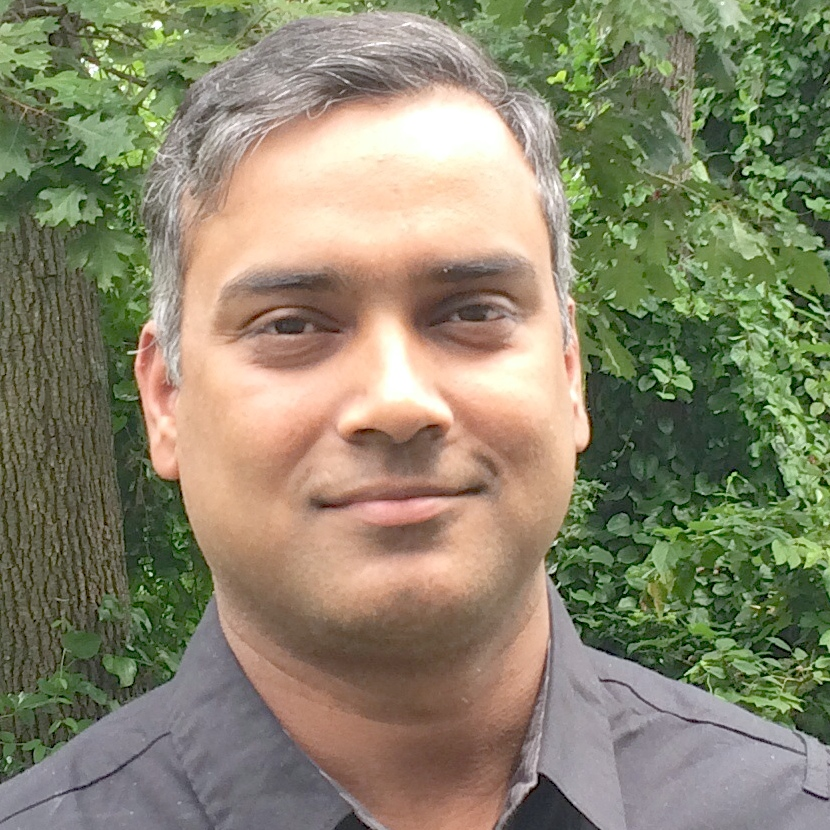 Gopal Gantayat, President and CEO of The Free Investors (TFI), is the portfolio manager for our flagship Mosaic portfolio. In the 13 years of his professional career, before he began TFI in 2012, Gopal played numerous management and analyst roles in technology departments of financial service firms. In his last job as Vice President at Neuberger Berman, he was responsible for leading business analysis and project management of multiple strategic initiatives. As a lifelong investor, Gopal has been successfully investing his family's assets in common stock of US companies for the last eight years.
Gopal received an MBA from NYU Stern School of Business with specialization in Finance, Accounting and Management. He also holds a bachelor's degree in Electronics Engineering, a Post Graduate Diploma in Management with specialization in Finance, and has passed the Chartered Financial Analyst Level I exam.
Gopal lives in Princeton, New Jersey with his wife Geethanjali and daughter.
Does this world really need another portfolio manager and investment portfolio?
Yes ! We believe that most of the investors are under-served when it comes to portfolio management. For average investors, there aren't enough funds that are  independent, transparent, accessible, focused on long-term investing, and has no conflict of interest. Read more about our manifesto and our key difference versus other investment funds. We believe that investors will be better served if many more independent investment management firms embrace this open and transparent philosophy to money management.
How safe is my account?
Your Mosaic Portfolio accounts are held at our custodian FOLIOfn and are protected by three levels of insurance for a maximum of $11.5 million per joint account. We can only buy and sell securities on your behalf in the account set up for you.
What are the different account types you manage?
Investor accounts can be individual/joint taxable accounts, tax-deferred accounts (regular, Roth, rollover, and SEP IRAs), custodial accounts, and revocable trusts.
How can I get started?
You can start the process by clicking the orange "Open A New Account" link on the top of this page and filling out the online form. Once you submit the form, we'll contact you to discuss the next steps.
Get our report "7 Unusual Traits Of The Most Successful Long-Term Investors" and newsletter in email